"KING PARIS & HIS HYPNOTIC GUITAR…
MUSICAL MYSTERIES OF THE UNIVERSE UNFOLD!"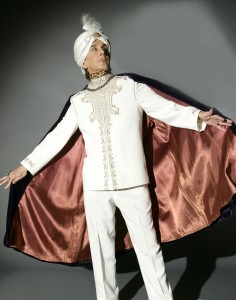 Who before has ever fused the influences of Ravi Shankar's sitar with Johnny Cash, Martin Denny's Island romance with Nat King Cole, Ustad Ali Khan's Indian sarod with Screaming Jay Hawkins, or Olatunji's African drums with the Rolling Stones? What musician has ever forged his craft listening to as diverse artists as Alvino Rey, George Harrison, Elmore James, Mohan Bhatt, Les Paul, and Muddy Waters?
King Paris combines musical elements of American Rock and Roll, World Beat, Exotica, Bhangra, House, and Slide Blues Guitar into a uniquely Universal and original style that is all his own, and dazzles with the newest, boldest, most exciting concert show to emerge from the imagination in centuries. His "west-meets-east" entourage also includes exotic Bollywood and Belly dancers backed by the pulsating rhythms of his astonishing, internationally-flavored band, "The Hip-notics."
But now a new magical music journey is about to begin. Here is the amazing KING PARIS!